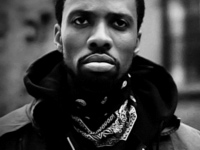 To put it in the most simple terms possible, The West Side is an urban western. This web series was created by Ryan Bilsborrow-Koo and Zachary Lieberman and is set in an insane alternate universe.
This amazing alternate world that has been created in The West Side combines gritty urbanism with old-time, classic American Westerns. The show is presented in black and white; this only adds to its mysterious and dark tone.
The first episode left me with my jaw hanging to the floor. Qasim, played by Damien Washington, has an odd, attractive, and alluring quality about him. It was hard to keep my eyes off of him as he introduced me to the crazy world of The West Side. I could go on and on about the insane elements of this show, but I don't want to ruin the fun for all of you.
The show is presented free on the internet, kind of like a serial novel. New episodes are posted as quickly as they are finished, so subscribe to the site so that you can be informed when the next webisode is released. And be sure to check out the production blog–it makes for an entertaining and informative read.
I'm dying to see what happens next . . . aren't you?