News
Travelistic Travel Videos | Plan your vacation and visit worldwide destinations through online video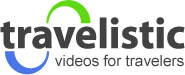 You may have noticed here on WebTVHub that we like to pick a subject and see what videos and TV stations are available on the net. I always find myself absolutely amazed by the number of brilliant video resources that are out there for almost any subject.
This time I've decided that watching online vacation videos would be a great way to plan a vacation if you are short of travel plan ideas, or also a great way to re-visit worldwide holiday destinations that you may have visited in the past.
It didn't take me long to come across Travelistic, a free directory of travel videos from around the world. Think of it as a YouTube but for Travel videos. The site integrates with Google maps to so you can click around the globe to see videos from a huge selection of popular destinations.
For example, if you are planning on discovering Toronto then just check out all the Toronto Travel videos. I especially like this video that shows you what you can do in Toronto with just 100 Euros.
So if you want to know what those 1,000 places you must see before you die actually look like then Travelistic can help you get acquainted. I find it hard to fault the site; it has a clean design, a large selection of videos from almost any destination and the option to let you upload your own travel videos. The only downside is that some of the videos have a pre-roll advert.
I'll leave you with a short video of a Thailand diving holiday that I would love to have the chance to go on:
---
– Before you book your holiday make sure you have researched your travel insurance to find out the cheapest deals and what your insurance covers you for.
– Enjoy Group Camping at the base of Mt Lassen at Mt Lassen Cabin Rentals
– Find cheap flights on European budget airlines, search available routes from all airports.
– Best-vacation-deal.com offers vacation packages deals on Seven Wonders of the World.
– SCH includes directory of hotels, online reservations, promotions and other information.
– Independent arrival, departure, delay and cancellation information for all commercial flights is available on flights-booking.com
– Adventure travel destination guides for the whole world is accessible on exoctic-countries.com.

---