News
TVTonic Review | See how easy it is to watch VideoCasts
TVTonic recently announced the latest version of their software this week. Its pretty slick with a beautiful interface that works with Microsoft Media Center and the Xbox 360. TVTonic allows you to subscribe to video episodes and watch them through a DVR esque interface. Before I head straight on with the review I'll introduce you to online video and RSS (scroll on if you're already familiar).
Internet Video and RSS
Internet Video Episodes, Vodcasts, Videocasts and Video Blogs are pretty much the same thing. They are on-demand videos available through the internet with new videos added on a regular basis. Many of these Vodcasts use an RSS feed to allow you to subscribe to their videos so you can watch new videos as they become available.
You've probably heard of Democracy Player or Instant Media
which are programs that allow you to subscribe to web videos. Howver, the problem with both of these programs is that they are a bit of a pain in the ass to use. Well at least I think so.
I don't know about you but I like to have my TV experience quite simple, just click and play, and I'm someone who's very familiar with PCs, so someone less familiar is bound to have a hard time with VodCast players like Democracy Player. That's not to say I don't like the idea, I would just prefer a more TiVo
or DVR esque experience.
But now that experience is now available with TVTonic. TVTonic is actually designed to work with Windows Media Center — a PC application designed to let you watch video and TV from your PC with a remote control like on a normal TV.
TVTonic GUI – It looks great and it works seamlessly
TVTonic has a brilliant user interface that works great with or without a remote control and with or without Windows Media Center. It is extremely simple to use and has a simple electronic programme guide built in to help you navigate through the many channels available.
The interface is quick and responsive and feels very smooth and crisp playing video seamlessly. The whole thing runs inside an Internet Explorer Web Browser, unfortunately there is no support for other browsers
TVTonic Features
Smooth design that is suitable for the full TV experience
Handles downloads in the background so you don't have to worry about them
Integrates well with Windows MCE and a remote control
Playbacks videos in continuous full-screen format
Easily navigable menu overlays
Support for high-definition feeds
Seamless integration with the Xbox 360 console with the click of a button
Both cached and streamed viewing for reliability as well as instant access
A wide selection of Channels
A built-in electronic program guide that is well organized to help you find channels
The ability to add your own channels by finding RSS feeds with video enclosures
Channel guide can be in English as well as Spanish
You can edit the amount of space on your hard drive available for storing videos from the TV channels
TVTonic compared to the competition
A great thing about TVTonic and similar programs like Instant Media, is that it is an open system meaning any producer can get their video to play through TVTonic if they want to. Its not like Cable TV which represents a more restricted and closed system.
TVTonic blows away its direct competitors such as Veoh, Democracy and Instant Media when it comes to ease of use and an aesthetic design, but it does lack some more advanced features that you can find in Democracy Player or through The Venice Project such as YouTube videos, channel rating and chat.
WXRSS.exe
TVTonic for some reason, even when closed and no downloads are occuring. keeps an application running in the background called WXRSS.exe which when closed down, restarts. It uses a little bit of resources and its just annoying that you can't get rid of it.
To sum up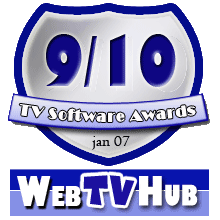 Pros:
Easy to Use
Works with MCE and a remote control
Supports high definition
Has a good looking and smooth interface
Integrates with the Xbox 360
Cons:
It lacks more advanced features
Only supports internet explorer
Annoying WXRSS.exe won't go away
Score: 9/10
---