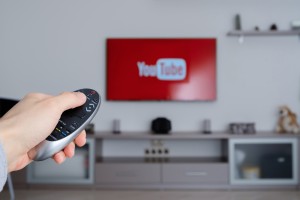 YouTube star Austin Jones was arrested on Monday on child pornography charges.
The 24-year-old singer allegedly told two female fans, around 14 years of age, to send him sexually explicit videos of themselves. Jones appeared in a Chicago federal court on Tuesday. He faces two counts of production of child pornography, each carrying a minimum 15-year prison sentence.
The YouTube sensation has 550,000 subscribers and more than 24 million views. Jones is known for his a cappella covers of popular songs by stars, like Fall Out Boy, Justin Bieber and Twenty One Pilots. He also posts original music on his channel.
The Chicago Sun Times reported that Jones admitted to requesting and receiving videos from the victims and that the videos were for sexual pleasure. One of the victims allegedly sent Jones 15 videos, in which she exposed herself in 10 of them. The complaint states that Jones reportedly told her how to dance, what to wear and how to place the camera.
The other victim allegedly sent videos to Jones through Facebook, and repeatedly told Jones her age as per his request.
According to court documents obtained by E!Online, Jones was picked up by the Customs and Border Patrol and Homeland Security Investigations at Chicago O'Hare airport. He was taken into custody, where he admitted to the charges during a recorded interview.
Jones was embroiled in controversy in 2015, when he issued an apology for allegedly lying about his age to solicit "twerking" videos from young girls.
"I've been in therapy, seeking help to discover why I communicated with my fans in a way that I have come to fully realize was not appropriate… To anyone that I have made feel uncomfortable or awkward, I am deeply sorry for the hurt and shame I may have caused you," Jones said.