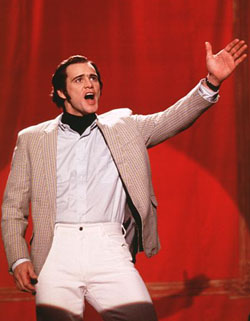 I recently decided to get hold of a load of Jim Carrey movies and I've already watched nearly all of them. I have to say I was pretty impressed with his singing and so I decided to get all the clips of Jim Carrey singing and post them here.
I managed to find most of them and a few I hadn't seen before, but there were a couple I couldn't find anywhere like the one from Man on The Moon where he does an Elvis impersonation.
Jim Carrey – Somebody to Love (Cable Guy)
This one has to be my favorite. It is Jim Carrey's karaoke version of the song Somebody to Love (by Jefferson Airplane), from the movie Cable Guy. He sure has some vibrato going on in this song.
Jim Carrey – Vanilla Ice
This video is taken from Saturday Night Live showing Jim Carrey singing the Vanilla Ice tune, Ice Ice Baby.
Jim Carrey – Imposter
If you're a fan of the old school 90's rap then check out Jim Carrey rapping in his original song, Imposter, where he makes fun of white (wanna-be black) rappers.
Jim Carrey – I am a Walrus
Jim Carrey in the Abbey Road Studios-London recording the Beatles song, I am a Walrus, from The Beatles-Magical Mystery Tour Album.
Jim Carrey singing I believe I can Fly from the film Dick and Jane.
A video clip from the Dick and Jane with Jim Carrey singing in the lift.
Jim Carrey – Man on the Moon
This video clip is from Man on the Moon where Jim Carrey plays a mixed up comedian. It's a shame because the clip cuts off before he does his Elvis impression.
Jim Carrey singing on Larry Sanders
Jim Carrey at his best doing justice to Jennifer Holliday's "And I Am Telling You I'm Not Going.