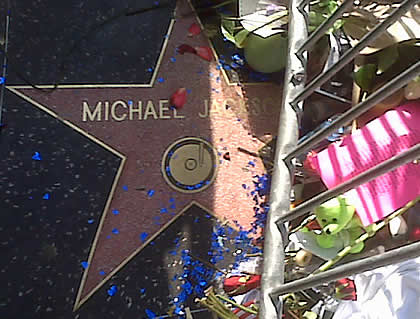 Michael Jackson's death came as a sudden shock to the world and has created an overwhelming response among millions of fans across the world.
When?: The historic funeral service will take place at 10:00 a.m. P.S.T on Tuesday, July 7th although there will likely be plenty going on running up to the service, and long into the night afterwards.
Where?: The Staples Center in Los Angeles. 17,500 tickets to the funeral were given away free of charge to the general public, 11,000 tickets to the Staples Center and another 6,500 for the Nokia Theater overflow next door. 1.6 million people applied for the tickets.
Watch?: Check the links below to watch online. For cell phone viewing click here.
The iconic musician and legendary dance is to be buried at the Forest Lawn Cemeter, about 13 miles away from the public memorial at the Staples Center. He will be buried in a $25,000 Promethean, a solid bronze and gold-plated casket. The coffin will feature a blue velvet interior and a hand-polished, mirror finish. The coffin is based on the same casket used to bury James Brown.
Live MJ Memorial Broadcasts
Below is a large list of links to high quality live footage of the memorial service. Even international viewers will be able to watch with ease.
Main High Quality Stream: CBS News Broadcast.
CNN – CNN will be streaming the funeral in partnership with facebook where you can see your friend's status updates as you watch the live event. Begins broadcasting at 9am P.S.T. (Watch here)
CBSNews – CBS will be streaming a webcast of the event and related coverage. Available to watch on WebTvHub, uStream and CBS.
Justin.tv – Justin.tv is a website that allows anyone to broadcast onlin. No dount the site will be packed with broadcasts. It is likely a number of live streams will show up here. Two channels broadcasting the funeral is coalhouse and EOnline. (Watch Here)
USA Today! – USA Today will broadcast the memorial service live from the Staples Center, LA using LiveStream. (Watch here)
BBC World News: The BBC will have live coverage of the funeral as well as inerviews and discussions, although expect interuptions of other world news. (Watch here)
BBC (U.K Only): The BBC U.K website will also have live coverage of the funeral. (Watch here)
ABCNews – Pre-recorded footage relating to Michael's death is available on the ABCNews website, and live coverage will be available from the homepage during the funeral service. (Watch here)
Hulu (Fox News): Hulu has announced that it will be streaming Fox News coverage of the funeral. (Watch here)
New York Times: The New York Times has announced that it will be broadcasting the event from its blog. (Watch here)
MSNBC – Live coverage will appear on the homepage during the memorial service. (Watch here)
ABCLocal – More live streams from the memorial service. (Watch here)
MySpace – MySpace will have a live feed of the funeral provided by AIG as well as music videos of the King of Pop. (Watch here)
MTV (U.S Only) – MTV is streaming live from the Staples Center memorial tribute but only to U.S viewers. (Watch here)
TMZ – The site that broke a lot of the news surrounding Michael's death is streaming the event live. (Watch here)
uStream – uStream allows anyone to broadcast live online and a variety of streams covering the funeral are already available. These include TheLoop, CBS & MJ's public viewing.
Peer 2 Peer
These Peer 2 Peer video programs can allow you to watch live coverage or download pre-recorded coverage.
TVUPlayer (live) – By downloading TVUPlayer (a P2P app) or installing the browser app, you will be able to watch a number of

live

TV stations from around the world that will be broadcasting the Funeral. simply go to tvunetworks.com, follow the instructions then watch a new channel. (Read More)
SopCast (live) – Similar to TVUPlayer, sopcast.com will also use P2P technology to stream

live

TV stations from around the world which will be airing the memorial service.
Graboid (pre-recorded) – Graboid is a very easy to use program that allows you to download

pre-recorded

videos online through P2P technology. It won't have live coverage but after the funeral has taken place it will have a number of videos of the event that you can download. (Read more)
Cell Phone Users
Cell Phone users wishing to watch the event live on their iPhone or Windows Smartphone please go here for instructions.
---
Also See
Share this with friends (Link):