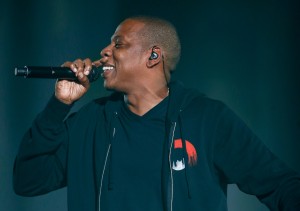 In an historic ceremony, Jay-Z has become the first rapper ever inducted into the Songwriters Hall of Fame. The event, held at New York's Marriot Hotel, was a disappointment for fans who expected Jay-Z to make an appearance. The rapper missed the event due to his wife Beyoncé's advanced state of pregnancy.
Members of the rapper's family were in attendance for the event, including his mother, sisters, friends and grandmother.
The rapper was active on Twitter during the night's events, and former President Barack Obama even appeared on the live screen to pay tribute to Jay-Z. Despite many fans hoping he would make an appearance, the rapper was not in attendance.
Barack Obama made several jokes during his appearance, stating, "Like all of you, I am a fan." He also joked, stating, "And let's face it, we both have wives who are significantly more popular than we are."
Jay-Z requested that his friend and music publisher Jon Platt, Warner/Chappell CEO accept the award in his honor. Platt delivered a speech on Jay-Z's behalf.
Platt represented the rapper in the first person, stating, "I can't begin to tell you how much this honor means to me," before laughing and adding, "I can't begin to tell you how much this award means to Jay."
Platt continued with a list of people he believes Jay would like to acknowledge in his life, including his wife, daughter, mother and grandmother. He also acknowledged Roc Nation and the entire family in his speech.
Jay-Z and Jon have been friends for over 20 years.
Platt's speech included many stories from Jay-Z's beginning and covered many of his accomplishments.
"I've been in this business a long time and I've seen a lot of things come and go. But legends? Legends are forever, and tonight Shawn Carter takes his rightful place among the legends in the Songwriters Hall of Fame, and this moment will live on forever. On behalf of Jay, I thank you for this honor of a lifetime," finished Platt.