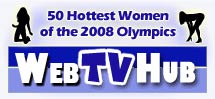 It looks like hot athletic women are dominating the Olympics this year.
Here are the sexy world class girls that made our '50 Most Beautiful Women' list.
50. Dara Torres – United States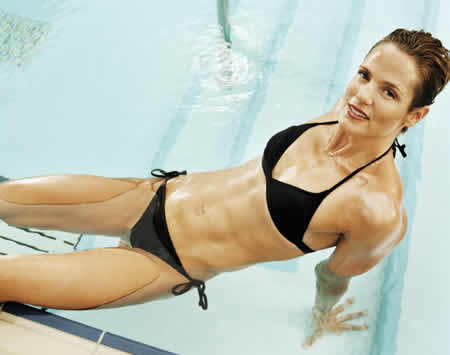 Despite a shoulder operation in November 2007, Dara Torres not only qualified for the Beijing Olympics but also won the 100m free ahead of 25 year old Natalie Coughlin. Did I mention that she's currently 41? See more sexy photos and videos of Dara here.
49. Yelena Soboleva – Russia
Russian runner Yelena Soboleva will be making her Olympic debut at Beijing this year. Find out more about this young beauty in this post.
48. Katerina Bad'urova – Czech Republic
Having finished 12th at the Athens Olympic games, Katerina Bad'urova is aiming for a medal in pole vaulting this year. More Katerina Bad'urova pictures and videos here.
47. Venus Williams – United States
Competing with her sister Serena in women's doubles and also competing in women's singles in tennis, this reality television addict is happy to be heading back to the Olympics. See more Venus pics here.
46. Cat Osterman – United States
Arguably the best pitcher in the world, Cat Osterman is excited to be going to her second Olympics. Click here for more pictures and videos of this sexy softball star.
45. Bronte Barratt – Australia
Born, raised, and living in Brisbane, Australia, Bronte Barratt is following in her grandmother's Olympic steps. Want more pictures of Bronte? Click here.
44. Gro Hammerseng – Norway
Current captain of the Norwegian national handball team Gro Hammersing has chemistry with her teammates both on the field and off. Find more pics and vids of this sexy star here.
43. Serena Williams – United States
Playing in both women's singles and doubles in tennis, Serena Williams is back at the Olympics for the second time – having had to pull out of the Athens games due to a knee injury. Get your fill of sexy Serena pictures and videos here.
42. Veronica Campbell-Brown – Jamaica
Representing Jamaica for the third time in track and field, Veronica Campbell-Brown is running towards gold again. You can find more videos and pictures featuring Veronica here.
41. Katy Livingston – Great Britain
Katy Livingston has been has been participating in multi-sport events since she was 12 years old. Now 24, she will be representing Great Britain in the women's modern pentathlon. Find more videos and pictures of Katy here.
Browse the 50 Hottest Women of the 2008 Olympics
50-41: Hottest Women of The Olympics